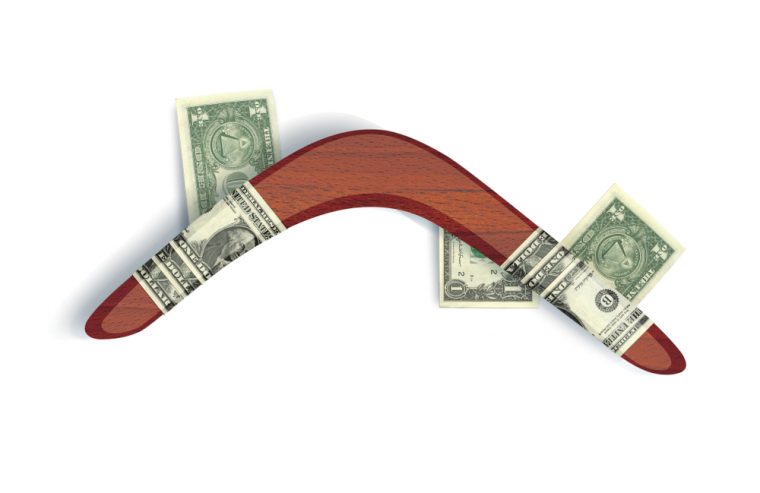 If you're driving cold traffic to webinars then what you're about to read could be a massive game changer for you…
This has been wildly effective for us in helping offset advertising costs by generating revenue before the webinar even begins…

Here's how it works: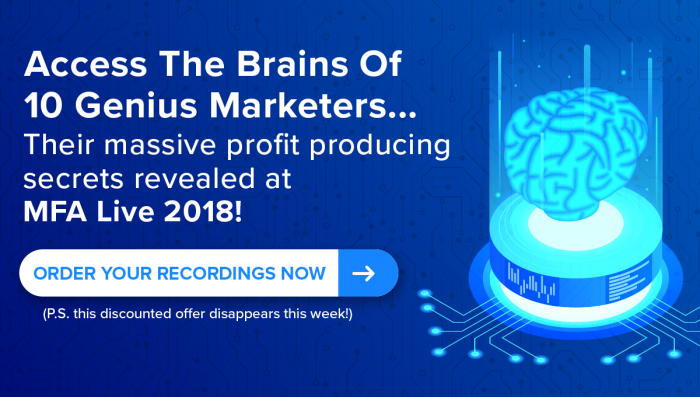 Instead of a typical confirmation page prospects see after they register for the webinar, we send them to a full page VSL.
There is actually no webinar information on the page at all…
Here's what that looks like: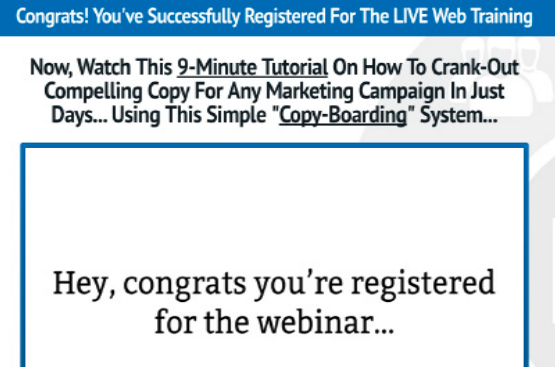 At the top of the page it says…
"Congrats. You've successfully registered for the live web training."

Then it says…
"Watch this nine-minute tutorial on how to crank out compelling copy."
Then the full VSL starts up (first acknowledging that they just signed up for the webinar) and goes into a full 12 minute VSL that makes an offer for a $97 product.
Now, there are a few things I'd like you to understand about this:
First, there is tremendous benefit in positioning the video as a tutorial.
Tutorials get consumed with a lot less sales resistance.
Second, the webinar confirmation page offer should not cannibalize your webinar sale.
In other words, don't offer something on this page that alleviates the need for the main product you're going to offer on the webinar.
The offer I'm referring to here has done wonders for offsetting advertising costs for us…
This offer converts at just about 2.8%.
That means almost 3% of all webinar registrants purchase this particular program…
At $97 that means this full page webinar registrant liquidation offer generates about $2.70 for us for every registrant.
Can you understand the power of that?
If you were paying $3 per lead into this funnel, you've recouped almost 100% of your advertising costs…
Before ever even conducting the webinar!
Even if you're paying $6 per registrant, this liquidation offer recoups almost 50% of your advertising costs…
Before the webinar even starts!
See how that can be a massive, massive game changer for you?
So, if you're running cold traffic to a webinar registration page and you want to cover your ad spend…
Or if you simply want to maximize revenue in your webinar funnel…
This is a simple, and extremely effective way to accomplish that.
Enjoy,
-Todd