When Clayton Makepeace took the stage at MFA Live 2017 a few weeks ago, the audience went wild…
Then, within minutes, went dead silent.
It's not often a legend in the world of direct response marketing shares his method, step by step, for writing million-dollar-plus marketing copy.
Yet, that's exactly what Clayton did.
"I'm going to give you my outline for writing great copy, quickly," Clayton said. "And there's a guy who's lighting the world on fire as a copywriter right now…. and he told me the other day he's built his entire career on the outline I'm going to give you in a moment."
That was all it took.
The audience went quiet, laptops open.
But before Clayton shared his "million-dollar marketing outline", he shared 14 questions he recommends you answer before writing a single word of copy.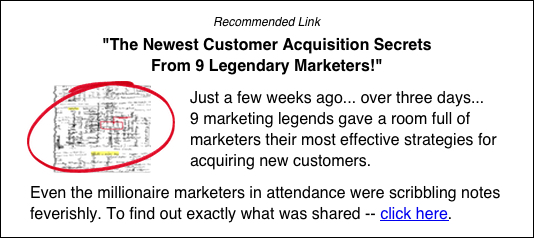 "Writing powerful sales copy quickly, occurs in two steps," he said.
"The first step is preparing for the outline. The second step is the outline, itself. And here are the questions I ask first to prepare for the outline."
He pressed the little presentation clicker and up popped his first slide on the two big screens — the first seven of his 14 questions…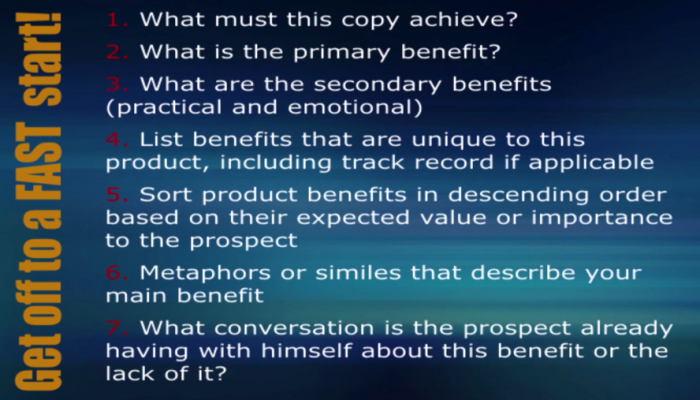 "Once you've got these questions answered, you take the information and simply put it into the outline," Clayton said.
(Note: He answers these questions in a little fillable PDF. You can get a copy of this same PDF here.)
Clayton went on to explain what to look for when answering each of the 14 questions. And, there was a huge lesson conveyed through the entire process:
The real work in writing great copy is not in the writing. It's in the thinking, understanding, and clarifying BEFORE the writing.
You must get clarity on what the objectives are of the copy.
Like for example…
Get the prospect's attention…
Convert the prospect's attention to viewership/readership…
Engage him/her on a topic they're interested in…
Present your credibility factors on why they should listen to you…
Etc.
And you need to do this first… before writing anything.
Clayton summed it up best when he said…
"If you don't know where you're going, any train will get you there. So if you sit down to write copy, and you don't know what the objective is, it's a waste of time." 
And it was clear Clayton believes this, because he spent the next 22 minutes going in-depth on each of the 14 questions to answer.
(Note: If you'd like a full copy of Clayton's presentation, go here.)
Then, with the questions answered and the prep work fully explained, Clayton dove in to his "million-dollar marketing outline".
And that's when things got really intense for the hundreds of marketers sitting on his every word. Because he…
To be continued in Part 2, tomorrow…
---
Get an HD video recording of Clayton's entire presentation, including his slides and extra goodies, here. Along with the full presentations of 8 other legendary marketers.
What you'll hear, as one marketer in attendance put it, is — "The most valuable marketing insights I've ever seen shared anywhere!"