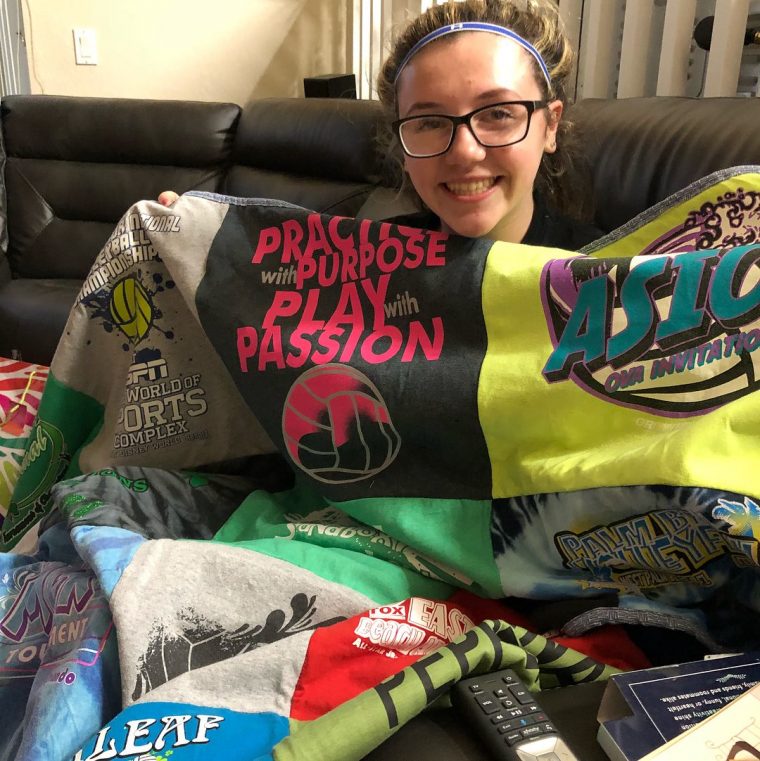 This is my older daughter, Sami…
And that's a blanket my wife, Kellie, had made for her.
As an entrepreneur, you should understand why.
Sami plays high school and travel volleyball. And has since she was 12.
Starting at her first tournament we bought her a different t-shirt for each outing. It become a little tradition for us.
Recently, as Sami began preparing for her final varsity volleyball season and college, she decided she no longer wanted her t-shirt collection anymore.
I'm not sure why.
Maybe she felt it was from the past and no longer had any relevance.
Or maybe she's simply looking ahead at what she wants to accomplish in the future.
Regardless, my wife and I understand the value of regularly "looking back".
It's valuable for all of us. Entrepreneurs included.
As we plot, plan, and work to grow our businesses, as entrepreneurs we tend to be goal driven. Always looking forward to what's next. What's to come.
And as we accomplish our business milestones we move the flag of accomplishment forward to something else. To a new goal. A bigger achievement we want.
So we're perpetually on the hunt. Perpetually on the quest for the next thing. Perpetually "not there" yet.
And while looking forward to what's next can be a good thing… it's also important we take time to "look back".
While you may have quite a distance to go to get where you want to be… you also need to recognize how far you've come.
As an entrepreneur, you should regularly look back at everything you've done and everything you've achieved up to this point. No matter how big or small you may think it is.
Take time to recognize the steps you've already taken. The things you've already completed. The accomplishments already under your belt.
Success with your own business is not a destination. It's a journey.
And you'd be wise to regularly look back at the steps on your journey you've already taken.
My wife and I hope Sami will do just that as she uses her new blanket — made up of all her "old" tournament t-shirts.